PERFORMANCE CONNECTION WORKSHOPS



Bringing high level training in the art of song performance to your city.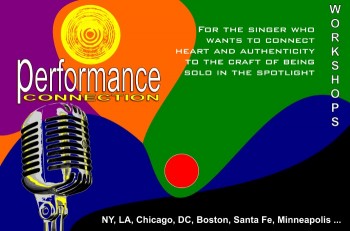 Combining over twenty years of experience in guiding singers through solo shows, award winning New York performers/teachers/directors/musical directors Lina Koutrakos and Rick Jensen brings there acclaimed workshops to your city.
The Performance Connection leads you, the singer, to a deeper, more dynamic and authentic connection to your material and to your audience. Singers from all muscial genres - pop, jazz, musical theater, classical - have found these one, two or three day intensives to be transformative both musically and personally.
Unlike other nationally recognized programs where the singer travels to work along side up to 30 other performers, Performance Connection workshops come to you! You receive more individualized attention because we limit participation to no more then 15 singers and offer you more affordability by eliminating travel and lodging costs.
Since 2006, Performance Connection workshops have successfully served singers in Chicago, Boston, Santa Fe, Washington D.C. , Binghamton (NY) and Las Vegas. These workshops are customized to meet the needs of each city's performing community. Koutrakos and Jensen's work with each singer is supportive, engaging, honest and creative. They are experts in passing on to you what they do when they are not teaching- performing themselves!
Spend a little time on this site and find out more about us and how we can help you go to the next level in your performance. We look forward to meeting you, coming to your town, hearing you sing and making that connection!