Workshop Content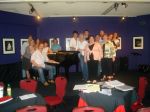 Lina and Rick in St. Louis.
Mulitiple award winning New York cabaret artists Lina Koutrakos and Rick Jensen have crafted a 3 day weekend intensive for singers which focuses on the art of song performance. Combining decades of experience as performers, director and music director, and teachers, Lina and Rick facilitate a professional development weekend that takes each singers to his or her next level.  
Whether you are working in concerts, clubs, cabaret rooms, musical theater or ALL of the above this workshop guarantees you a deeper connection to your work than when you walk in the door.
"I have a clearer sense of myself as a performer and how an audience perceives me. I feel much more comfortable, real and authentic in my performance and confident in my ability to hold an audience." – Singer and Equity Tour Music Director, John Randall (Los Angeles)  
The core of the 3 day intensive focuses on performance coaching, facilitated by Koutrakos as director/performance coach and Jensen as music director/coach.  Participants receive individualized feedback on their performance in the following areas:  connection to material, physical choices, song selection, interpretation, arrangements, audience connection and internal/external focus of song.  Other topics covered in the three days include constructing a show, working with your musical director, the importance of the arrangement and developing patter.
"Lina is an incredible diagnostician.  Rick is equally adept at offering an incredibly diverse musical direction for any piece.  I highly recommend working with these two in any capacity when it is possible …" - After Dark Award wining "Best Cabaret Performer" KT McCammond (Chicago)
Between them, the teaching team of Koutrakos and Jensen are the recipients of 9 MAC Awards, honoring excellence in New York cabaret, in addition to 2 Backstage Bistro Awards, a Village Voice Award, GLAMMA Award and France's Le Petit Piaf Award. They have been teaching ongoing advanced performance workshops in Manhattan for over a decade and have guided countless performers through the creation of solo cabaret shows. Both have served on the faculty of the Cabaret Conference at Yale University, The Eugene O'Neill Cabaret Symposium, The St. Louis Cabaret Conference and together have taught three day performance intensives in Chicago, Boston, Santa Fe and Washington, DC.  Jensen is one of New York's most sought after musical director/arrangers and Koutrakos added two more MAC awards to her credit in 2007 – BEST MAJOR FEMALE ARTIST and BEST DIRECTOR. Both are dynamic performers, teachers, songwriters and recording artists who have worked in nearly every cabaret room in New York.